*updated May 27 2013*
This tutorial assumes that you, like me , are NOT a first rate sewing persona, but that you would like to take an active role in creating your coveralls. Email me if you want a copy of my templates. Once your coveralls are in hand, this will take a couple of evenings to complete.
tiebomberpilot@gmail.com
is my Email--just ask for a cop of the files. Remember--SIZE THEM UP OR DOWN TO FIT YOU PROPERLY.
I have modified, updated and edited this tutorial five times since I first wrote it. I would strongly suggest that you copy it into a Word program and save or print it out for use while you work on your coveralls.
I used AutomotiveWorkwear model CT10 coveralls exclusively. You may prefer Dickies, or anothe brand of coverall/ boiler suit. You need two pair, one to cut up and one to wear. I can pretty much guarantee that you will not be able to match the fabric on the suit, with twill from Hancock, Joanns or Walmart. The pair you cut up does not need to be the same size you wear, so save a few ducats by purchasing a size small or medium of the same coverall. Watch automotiveworkwear.com for sales. Each US Holiday they run a sale with a special code. Even minor holidays get a special promo code, so keep an eye on the site.
Make
damn sure
you are cutting up the proper pair. i cannot stress this enough! CAREFULLY
remove all pockets
with a seam ripper and sharp knife.
None of the original pockets will remain when you are done.
Conversion checklist:
1 Remove all pockets. None shall pass!
2: remove collars.
3 turn coveralls inside out and wash in cold water, or hot water to shrink.
4 line dry or dry "hot" to shrink
5 press coveralls flat from inside
6 print pocket templates and resize to fit you. Tape to your body to check fit and size.
7. Use chalk to lay out your cut lines plus 5/8" around each part seam allowance
8. parts to be cut and installed
[*]collar
[*]commpad window
[*]right arm pocket
[*]left dosimiter pocket
[*]chest pockets (x2, mirror images)
[*]upper leg pockets (x2 mirror images)
[*]lower leg pockets (x2 identical )
[*]trim legs to fit tightly into boots
[*]horizontal chest strips
[*]slanted chest strips
[*]cuff closures
Materials list:
2 coveralls
black thread, 1 spool
black velcro (sew on type preferred)
(magnet for Mechanical Crewman collar closure, canon is open with red T shirt)
Commpad for correct window sizing.
Long ruler
Sewing marking chalk or marking pencil
Fabric Glue (optional)
Bust open the bartack seams from the
inside of the pocket, between the pocket face and the flap
that turns under. Don't cut this bartack next to the coverall itself, you will make a hole if you do.
Wash the coveralls in cold water after you take off the pockets. If you want to shrink them , now is a good time and these coveralls shrink up to one size, so be prepared for that when you place your order. You can use warm water or dry them on the dryer "hot" setting to shrink them, which prevents any size malfunctions later on. Trust me on this, I got a big shock after i ordered and converted my first, and then they would not fit!
Turn the donor coveralls inside out, you will
always
work from the inside of the donor coveralls. Your fabrics' bias runs up and down along the length of the torso and legs, so lay out your templates along the bias plus as a 5/8" (14mm) seam allowance around all pocket parts to turn under and stitch. If you plan to use the Nathan and Bermans plan graphic , which incorporates a slanted vertical and horizontal line, cut 4 ribbons 1 1/2 " wide to make these features from. (see discussion below on chest slant strips)
Now is a good time to clean the sole of your iron. Mine had gunk on it and it needed a good scrubbing. For this tutorial I am using Navy Blue coveralls for the Mechanical Crewman costume. The pocket layout is identical to the standard coveralls used Legion wide, without arm patches.
But, HOW BIG should the pockets be?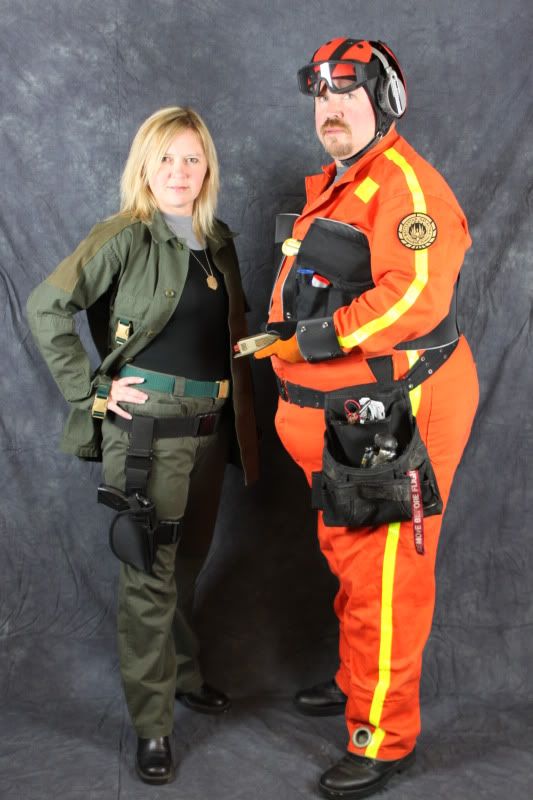 I am making two pairs of converted coveralls for myself and a garrison mate. She is a lot smaller than me and has lost almost twenty five pounds since this photo was taken, which brings me to this point: Standardized, published pocket sizes are useless if you don't fall into the "normal" size range. My thigh pockets on my TIE suit are 9" x 5". That would almost wrap entirely around her leg. I made the templates to fit me and to fit her. Size is relative, and the established sizes don't always work out. I had to reduce the size of her greens' sleeves by almost 1/2 . Here she is wearing a size medium, the smallest of that particular BDU top we could source, so we had to cut it down to fit her. IN THE SAME MANNER, ADJUST THE POCKET FILES I SEND TO FIT YOU PROPERLY. I cannot stress this enough.
What i send is FULL SIZE...just cut them down to fit you properly.

I use the cardboard that shirts come wrapped around, as well as desktop calendars are bound to, for my patterns. I have a pattern for each pocket, marked. Remember, chest pockets and thigh pockets must be flipped, they are mirror images. Dont forget this fact, or you will have wasted fabric, and two very very odd looking pockets.
I have been granted permission by Steve "ONE-5" to use his image of his pockets laid out in paper on his coveralls. this is the proper pocket configuration. Pointed or flat pockets are optional.
Check with your GML first.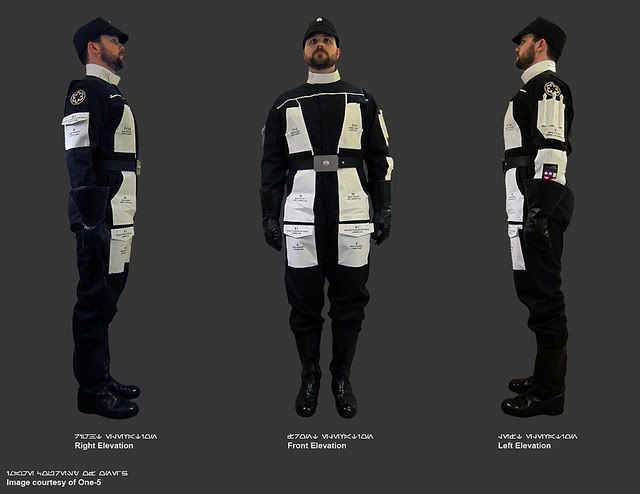 Many thanks for the use of this very instructional image.
Slice 'em and dice 'em
Make up your pocket templates, and size them up or down to fit you properly. You may need to shorten the code cylinder pocket depeding on your upper arm length, to accommodate the patch and its 1" distance from your shoulder seam and not wind up on your elbow. Same goes for the knees, you really dont want your lower leg pocket ending at your knees, it makes it uncomfortable to carry anything down there like your wallet when its rubbing on the kneecap. The right arm shoulder should be near the same size as the lower leg pockets. Pointed flaps vs. flat flaps is up to you: check your references for the coverall you portray.
Once your coveralls have air dried (or dried hot to shrink them) turn them inside out (you will be working inside out ) and iron them. Ironing the
inside
leaves no shiny spots on the twill. Lay them out flat, and using a fabric pencil or chalk trace them all out, staying
with
the bias of the fabric. Cut everything out and leave at least 5/8 inch around each part. Make certain that you are not bunching your fabric up and cutting something that you really dont want to cut...it happens! So double check before you cut.
You will need 2 pocket flaps for the lower thigh pockets as well as the pockets to fit, 2 mirror images for the chest & upper thigh, one flap for the right pocket, the left dosimiter pocket, commpad pocket, two cuffs and your collar which is the most time consuming to lay out. for the collar, lay out a double width of fabric, leaving enough to turn under and stitch, and make it plenty long to wrap completely around your neck and have overlap. Plan your cuts so that you haven enough fabric to make the collar, it takes a lot of fabric to make it.
Once your parts are cut out, iron all the parts from the "wrong" or "inside" of the fabric. Identify each piece on the inside with chalk or sewing pencil. Fabric has an "inside" and an "outside" that look different
ESPECIALLY UNDER FLASH PHOTOGRAHY
. If you cant tell in room lighting, look at it in sunlight and you can tell which is which. If that does not work, take photos inside with a flash...that will certainly point out the differences in a hurry.
Cut pie slices close to your chalk lines on the thigh and chest pockets, this will allow the curved edge to lay out flat. . If you want to go "whole rancor" on it and have a very professional appearance, DOUBLE the pockets by making two more mirror images and stitching these together, back to back, so make a very nice, finished appearance. Doing this doubled up treatment to your commpadpocket makes it very nice as well.
continued below....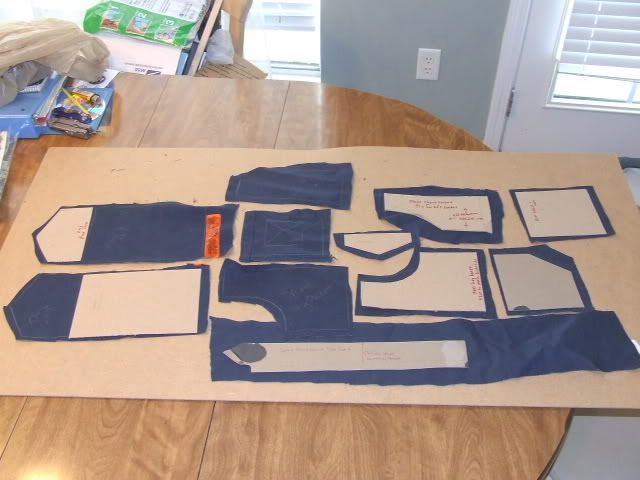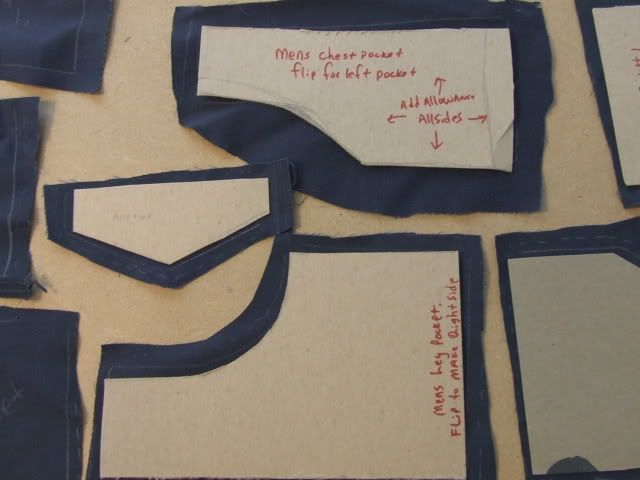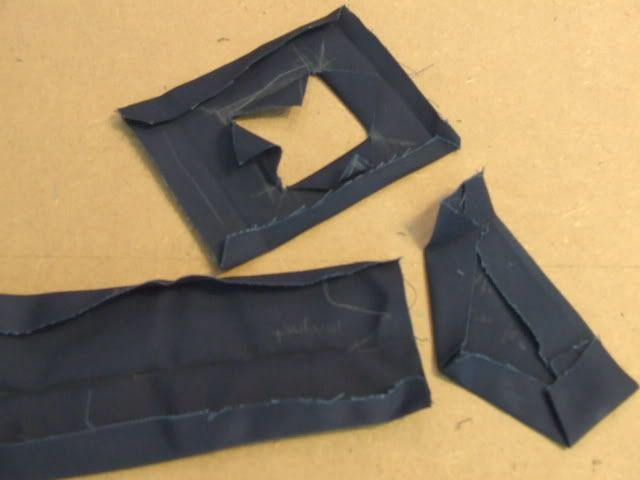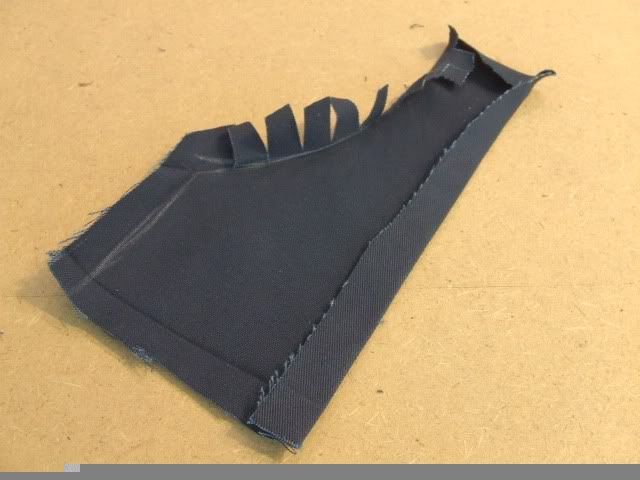 Heat 'em up!
I use my iron on the Permanent Press setting, but you may need a bit more. I also spray water on the fabric to get a sharper crease which makes sewing much easier, because the fabric behaves. Iron ONLY the edge, ironing has this funny habit of making whatever is beneath the fabric show up, and in this case it would be the cut edge of the seam allowance, so just iron the edge. Flip the sliced edges of the chest pocket.
For the collar you can either make your finished lower edge by ironing it now, or later, your choice. Using scrap fabric to protect the visible surface of the fabric, fold in half lengthwise and iron to a crisp edge.
Once everything is ironed and properly identified with a test layout on the coveralls, you are ready to sew.
Roll with the stitches
I loaded up the machine with Navy Blue for these blue coveralls , tested my tension & stitch length on scrap until it worked properly and then started to stitch only what needed to be finished prior to stitching to the coveralls.
The top of all flapped pockets needs to be stitched, as do the pocket flaps, the commpad holder upper edge & opening, and the open edge of each chest and thigh pocket. The collar needs to be flipped inside out, and the pointed end and lower curve stitched in. Trim the point and flip it out again. I added a magnet sealed in 5 coats of nail polish inside of a fabric pouch i made to my collar, hers will get velcro because it is a lot smaller than mine and I didnt have room inside the point to sew up a magnet. Make two pointed wrist strap closures in the same fashion.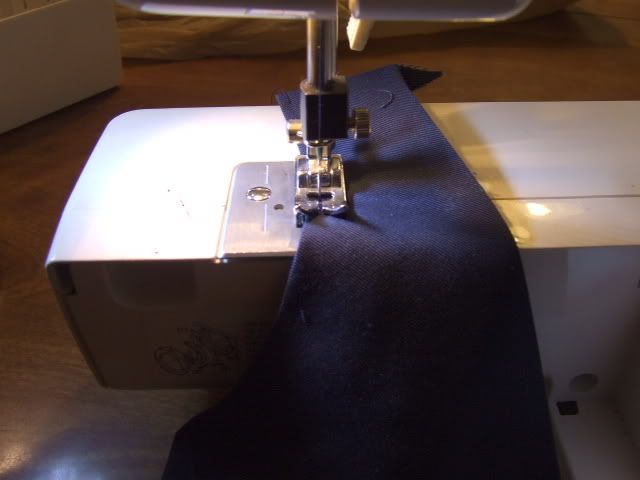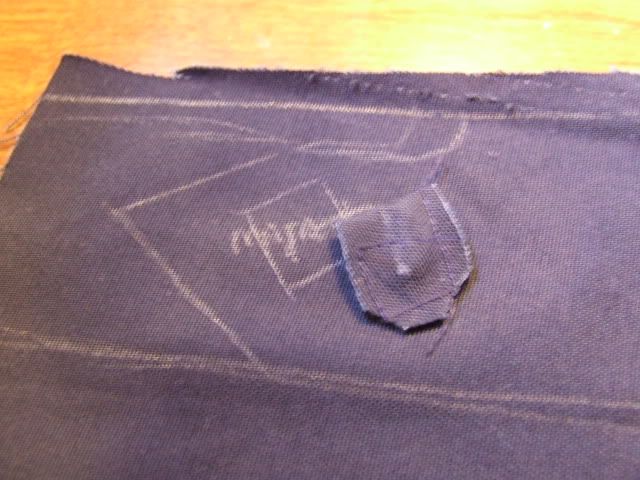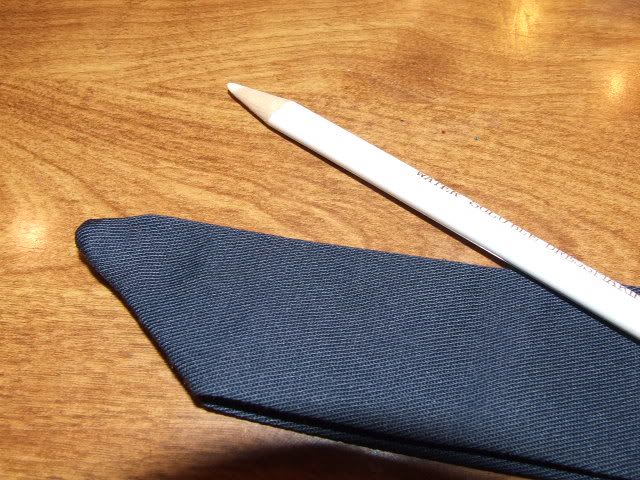 Arm pockets TEND to fall one inch below the cog which is one inch below the shoulder seam. Depending on how long or short your arm is you may need to adjust this a hair---you don't want your right or left arm pocket winding up on your elbow.
The chest and arm pockets are fairly straightforward, but you need to put on the coveralls and wear them to lay out the leg pockets, which fall directly below the chest pocket. Putting them on moves the fabric around vs. laying flat on a table. Mark with chalk or wash-away fabric pencil if you dont want to pin it in place.
Make four strips for the chest. The finished width of the chest strip is 3/8'' (10MM). Cut four strips of fabric from the leg, lengthwise, 1 1/8" (32mm) wide. Make these strips longer than the total width from arm to arm, and from longer than the horizontal strip to the belt line where the coveralls are stitched together. Press the strips flat from the "wrong" side, fold over and press again to form the edge, and fold the second edge over and press. You will need to trim away extra at this point. After making the first strip, the others will seem easy. Choose the two slant strips, and glue the chest pocket to the underside. (see discussion below)
I have a new method for making up the chest pockets. After the slanted strips are made up and pressed flat, I glue them with quick set fabric glue such as FabriFix or common stick glue. I always make mine plenty long, so I place the strip over the longer edge of the chest pocket and glue it in place with FabriFix glue. When I put on the chest pocket, I tack the slanted strip on at the same time with a few more dots of FabriFix, and sew it all on as one complete assembly, speeding up my time. The horizontal strip goes on from shoulderseam to shoulder seam. I open the seam, stuff it in and close it back up. I open the finished edge of the storm flap, stuff it in there, and finish that, and carry on from the zipper to the opposite shoulder. The lower edge of the slanted strip goes inside the waistband for a finished appearance. Recent photos posted to the JRS show that the opening of the chest pocket occurs close to the ribs rather than the chest. Likely different teams assembled the uniforms for the movies, and there was variation.
How you attach the pockets to your coveralls is up to you. You can split the finished seam on the arms and legs and gain access for your machine that way, or you can hand stitch it. I am better with a machine so I open the leg and then re-stitch when Im done.
Add your commpad pocket before you add your cuffs. Make it high enough on your arm that it can be seen above the glove, but at the same time dont put it on your elbow. Look at reference photos of the real uniforms for where yours needs to fall. Hidden inside your gloves do no good. Make two "window pockets, lay them back to back and stitch the openings together. This gives a very "finished" appearance. Double the work but looks great.
Here is how big your pocket needs to be. Cut and fit your pocket, and make it fit your pad tightly.
Voodoo created a new method to insert the commpad. Instead of sliding it in from the top , as we do, and securing with velcro, he cut a slot in the arm, finished the edge, and laid the window over this slot. The commpad is slid into the arm slot and into the window, which literally grips the edges of the 3d commpad. This is extremely secure and less problematic than what I show in the following steps. The choice , as always, is yours.
Your cuffs come from the 2 original collars, split lengthwise, sewn it into a long tube, but sewed inside out. Sew a pointed end into it and turn the tube right side out. Long nosed pliers, hemostats, or a long crochet hook help. Determing where the "inside" of the cuff is, and press it flat . Stitch around the outside edge to keep it flat and give it the correct appearance. Add a slab of velcro to the cuff tab end. Lay it out on the sleeve and pin the pointed end where you want it to end up, with the tab pointing away from your body. Pin it on around, and stitch in place, addng velcro to the mating surface of the wrist.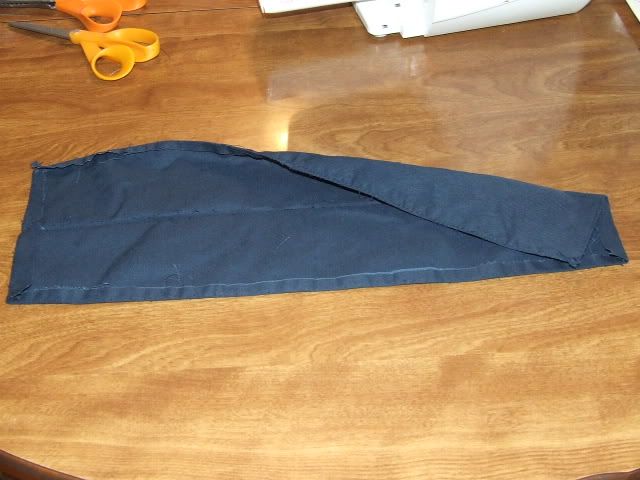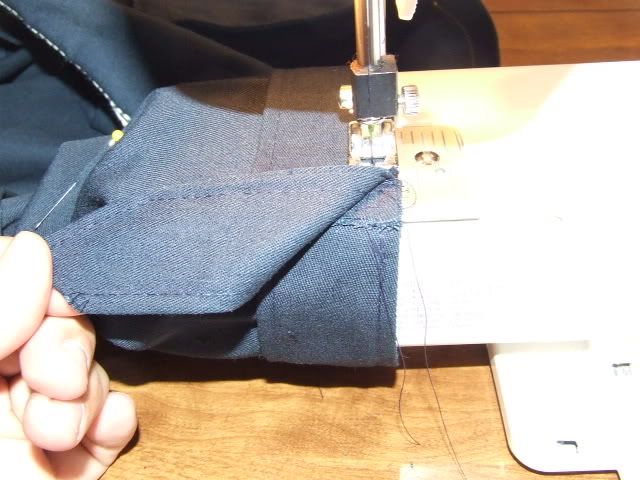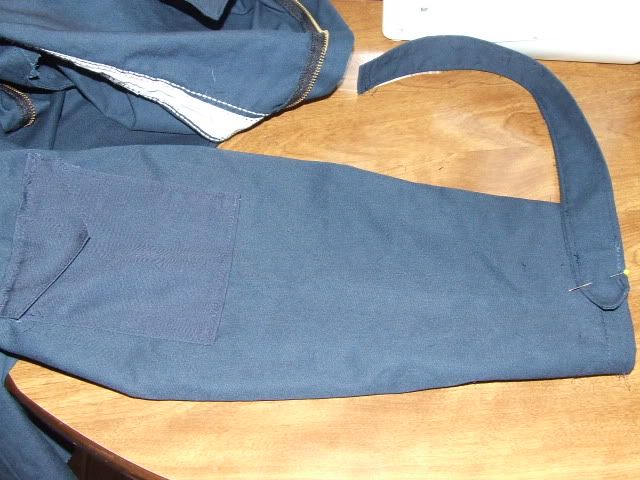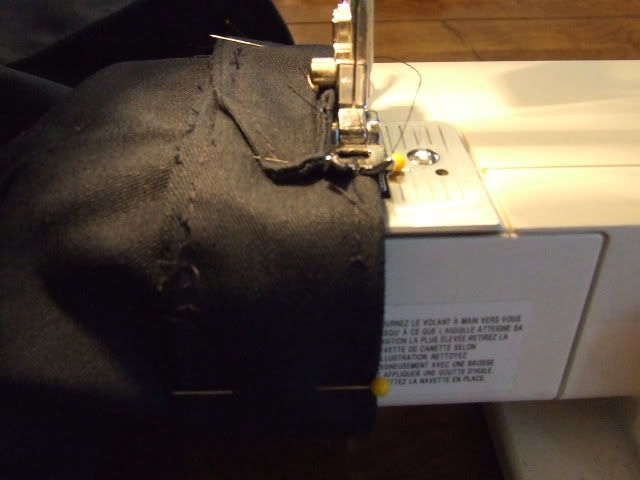 Pin the collar you made earlier all the way around the neckline. Ensure that the fabric of the coveralls is properly caught by the collar, often there tends to be gaps when you think you stitched it and it did not grab correctly. Pin the collar
at least
1/4 inch inside the new collar, making adjustments for your neck as needed. You may wish to modifty the pattern to allow for the "dip" the front stormflap takes when they re made in the factory. If you add this extra material to the lower edge near the tabbed closure, it will keep the collar nice and level.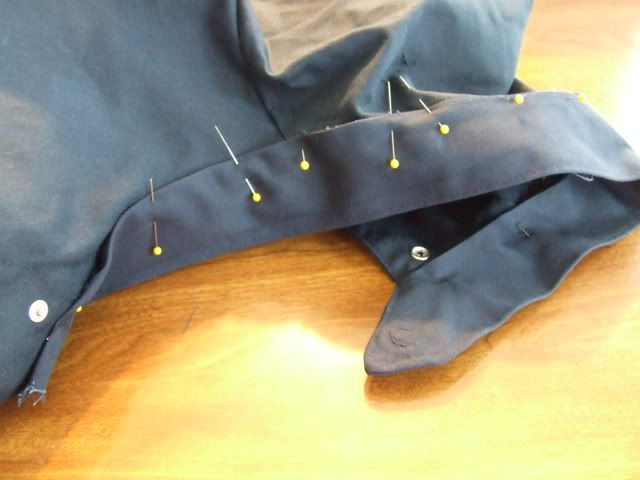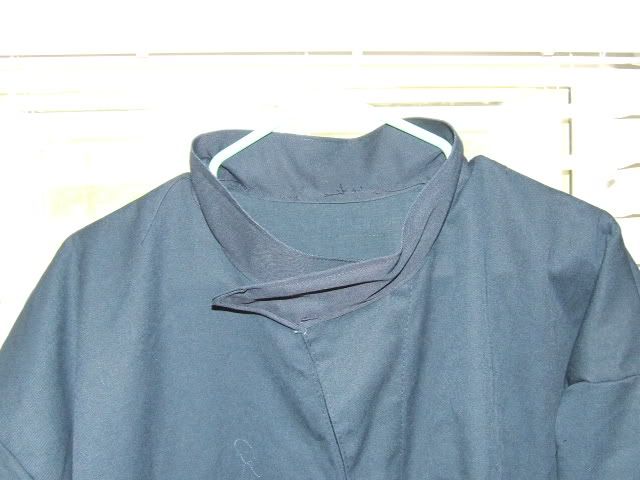 *** Addendum
As described above, adding fabric to the bottom of the collar in a curve will allow you to bring the level of the collar up to where it needs to be, depending on how your donor coveralls were made to begin with. At the same time, if you measure around the neck opening, you can determine where the point would fall for Level 3 coveralls.
I have made a new PDF file I can send out if you want to do this, and this will be incorporated into new templates I am working on.
Illustrated for simplicity:
(purple lines are stitched, orange lines are not stitched so you can turn it inside out and tuck under the edges)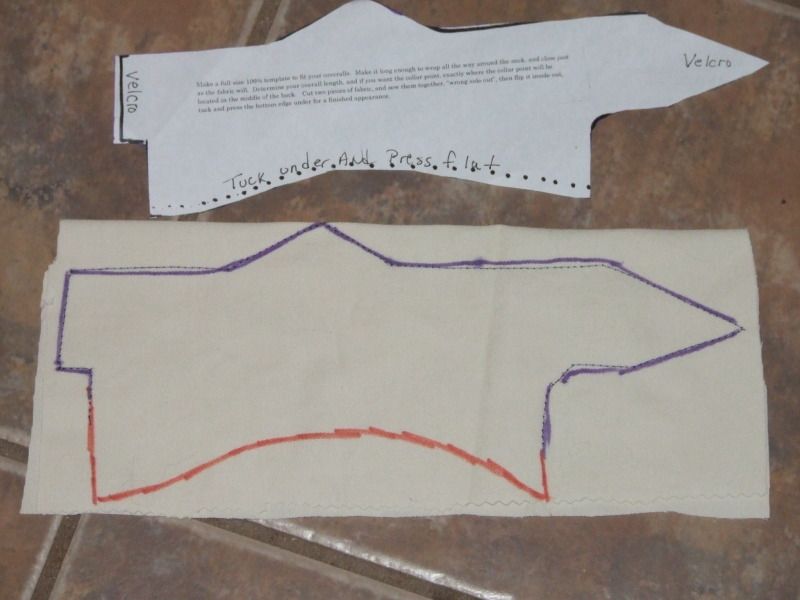 Tuck under the lower edge as above, and stitch the new , upgraded collar into place.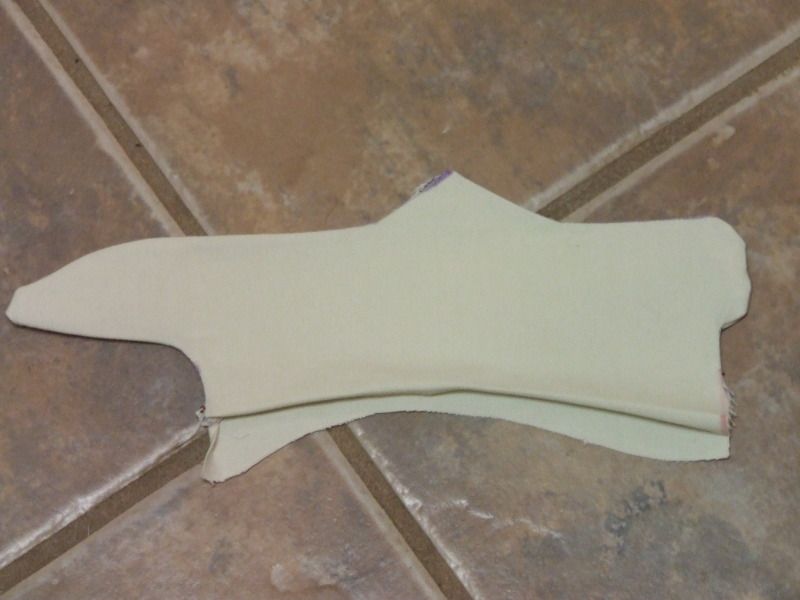 The last step is to sew the original slash pockets closed. Nothing looks worse than to have bright white pocket liner showing on a 'sealed" vacuum rated suit, or to have your bright yellow smiley face underroos showing through the slash pockets on the side. Just trust me on this one.
You may also wish to take out some of the back of the leg around your calf to make it fit into the boots better. Trim and hem the length of the lower cuff so it is around your ankle but not much higher. Add elastic here to run underneath the arch of your foot to keep your boot properly tucked into your boot. You are NOT Rebels- you are Imperial Officers. Only Rebels blouse their boots! A proper Imperial officer would not have such a sloppy appearance to be mistaken for a Rebel sympathizer...and my be shot on sight for being mistaken as a sympathizer.
Now, let the coverall conversion begin and post those progress photos in the Cadet Training Progress Reports thread, found here:
viewforum.php?f=102